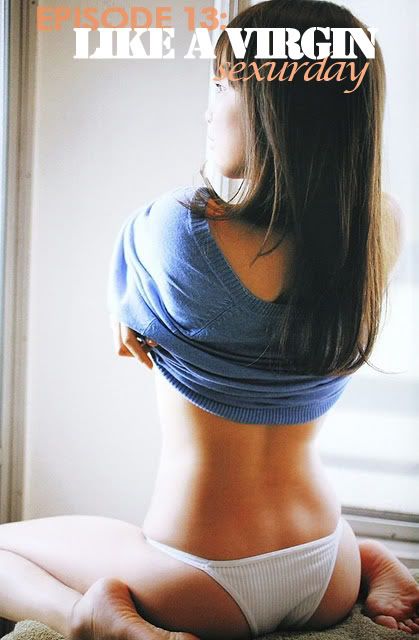 FIRST, WATCH THE VIDEO! 
I don't mean to belittle the importance of losing one's virginity (or taking someone's virginity) by saying things like "It doesn't' matter who you lose it to. Who gives a fuck?". I only say that to assure you that losing your virginity is your decision and no one else's business. Lose it with whomever you deem appropriate according to your own requirements, cool? Cool. 
Onto talks of blood and pain. As I said, it will hurt. It hurt for me and most of my friends. You may be different. You may be the same. Likely, the same. Take comfort in knowing that your body is meant to stretch to such proportions and produce enough lubricant for you to survive. I promise. The blood comes because your hymen breaks. Well, breaks…stretches..I don't know the details. Google it. But it is likely that you will bleed and it will be embarrassing because your partner isn't into your blood on his sheets. Or your blood on your sheets. Just, your blood anywhere, dude. It's gross. But prepare him beforehand and perhaps put a towel down (so your mattress isn't ruined) as a precaution. 
If you use tampons or are fingered fairly regularly (with like, a two finger minimum) things may hurt less for you and what a joy that will be! I wasn't a heavy tampon user as a V-card holder but what a gift that was afterward. Life's little joys. 
There will be lots of discomfort during your first time but you shouldn't let that hinder future endeavors because as you may have read here previously, sex can be good times. However, it's important to note: sex will not be fabulous every time after your first either. Now you're confused, right? I'm just sayin' sucky sex is everywhere. There are adult women having sucky sex every day. There should be awareness ribbons. It's real and it's out there. Just make sure YOU know what the fuck YOU'RE doing so that you can point out sucky sex at first sight. 
In the video I suggest not giving much thought to positions on the first time. I say this because it's probably safest for the girl to be at her most relaxed. This takes lots of trust in your partner, because, as a woman, you don't have much control in missionary. For this reason, some would suggest the girl get on top. I say that's phooey (did you know "phooey" is a real word? Did you know "phooey" is spelled with a "ph"?). First of all, riding takes a certain finesse a newbie does NOT have. There is no convincing me otherwise. Secondly, gravity will not be a friend to a woman on top for her first time. I honestly feel like missionary is best BECAUSE the woman is in less control. She won't want to continue pushing herself because it hurts. She'll need the guy to "force her" (using this loosely, you shouldn't actually be forcing anything, guys) to take necessary steps forward, ie; allowing him to put more of himself inside. Get it? Mmkay. 
Dudes, like I said, don't go into this expecting too much. I remember the guy I lost mine to asking me mid-stroke if I wanted to flip over and I said, "NO!". He asked if I'd like to try a few other things. I said, "NO!". Don't ask her for shit, you understand me? You're toughing this one out in order to get to future moments where you can sling her against the wall and whatnot, but that ain't tonight. Note also, she must be prepped and primed for this occasion. Pull out all the stops. This means your fingers and/or (AND) tongue may need to take a trip down south, ya feel me? Things go better too if she actually likes you so, even if you're an asshole and you both know it, put on a smile for the night. Sell the dream. Or at least try. 
Ladies, one last word to you all. This is something I struggle articulating even to myself, but I want you to know that you will lose something else, something very important, on the night you lose your virginity. I try to warn all my V-carded friends of this before they enter into the Land of the Lost so here goes. You will lose your Natural Stopping Point. Yep, I just made that up. Your Natural Stopping Point (NSP) is that instinct you have, while still holding your V-card, to stop intimacy with the opposite sex before things go too far. See right now, you're a virgin so, you have no desire to just allow any old hook-up into your panties (because no one gets into your panties). But imagine a world where your vagina has been around the block. Well, not around the block, but like, across the street. She's seen a little bit. She knows a little bit. She wants it a little more. She's a little harder to control. She convinces you of things and then BAM! You have a penis inside you and your legs aren't even shaved! Or worse, you're not even really into this dude he's just a good kisser. 
It's real, folks. NSP is real. Don't say I didn't warn you. 
That's all for now, 
Christine :)
QUESTIONS GO HERE! 
Oh! And shoutout to my internet buddy, Rebekan Christie (@ChristieLover) CHARMEDFEATHERS.COM.